Enterprise Super Admins can easily create Recruiting Supervisors in TrueRecruit
Unlike with TruePerformance and TrueContinuity users, to set up TrueRecruit users for your Enterprise, Enterprise Super Admins must log in and navigate to the TrueRecruit module via the top of the left hand navigation. From there, you will be brought to a page where you can begin setting up the business development team by adding "Recruitment Supervisors" to TrueRecruit.
Recruitment Supervisors are the highest ranking TrueRecruit users and can have multiple Recruiters and Recruits associated with their account. You must create Supervisors before you can add Recruiters to the system.
To add a Recruitment Supervisor to your Enterprise, simply click "Create Supervisor".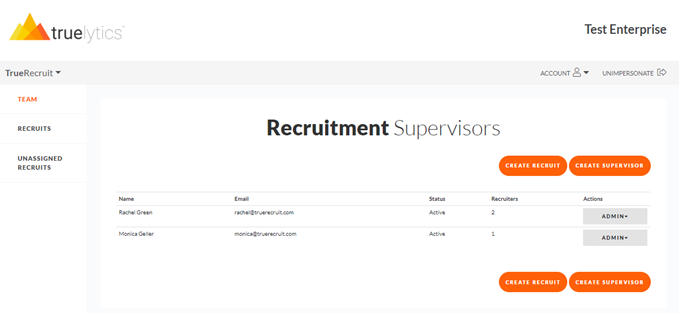 You can choose to have an automated invitation email sent to the Supervisor or you can create a temporary password for them depending on your desired approach.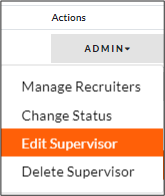 Once a Supervisor is created, you also have the option to manage details for that Supervisor via the Admin dropdown, including adding and managing Recruiters, editing the Supervisor's account details (updating email address and managing passwords), changing the status of their account from active to inactive and deleting the Supervisor from your Enterprise.